Want to learn 4 new ways to target your YouTube ads at scale?
Recently we've been looking at the ongoing paid traffic battle between $3.7B weight loss app Noom and newly funded upstart Found (joinfound.com).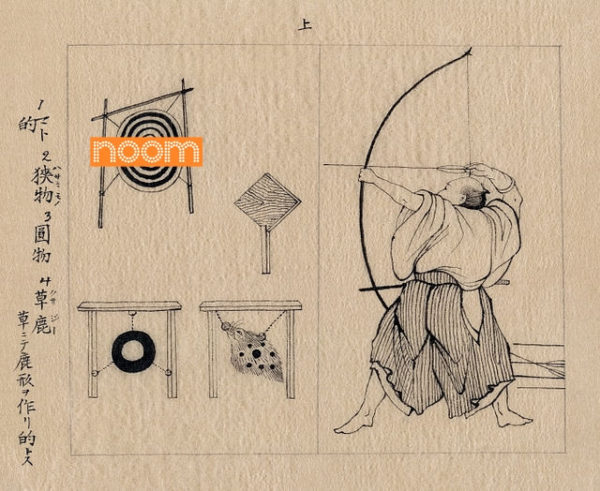 Targeting strategy, circa 18th century Japan
In part 1 of this 3 part series, we looked at some initial lessons from Noom's $131 M usd YouTube adspend.
And today in Part 2 of the series we're going to talk about TARGETING...
We're going to uncover four ways Found can leverage Noom's YouTube ad success so far, so they can:
1. Take away market share from #1 weight loss app Noom
2. Scale user acquisition after their recent $100M Series B funding round
Let's get started...
Custom Audience, circa 1723
Key Point: We're going to use SimilarWeb to build highly relevant, unique, and scalable Custom Audiences for Found's YouTube ads.
We'll walk through 4 unique use cases (including one sneaky counterintuitive use case that can work extremely well…)
But first, a quick love letter to one of our favorite Google Ads features that's working great right now for 2022:
Why We love Custom Audiences
Standard targeting options that can scale, (like In-Market & Affinity segments) are becoming more and more of a "Red Ocean." With more and more advertisers joining YouTube these default options are getting more and more expensive.
Thankfully, we're finding that Custom Audiences (done correctly) are working better and better.
As a refresher, Google Ads' Custom Audiences allow you to target users based on:
Their behavior on Google Search (people who have searched for certain keywords)
Their browsing history (people who have browsed similar URLs)
Here is a quick screenshot of how you might start setting one up to target competitor urls: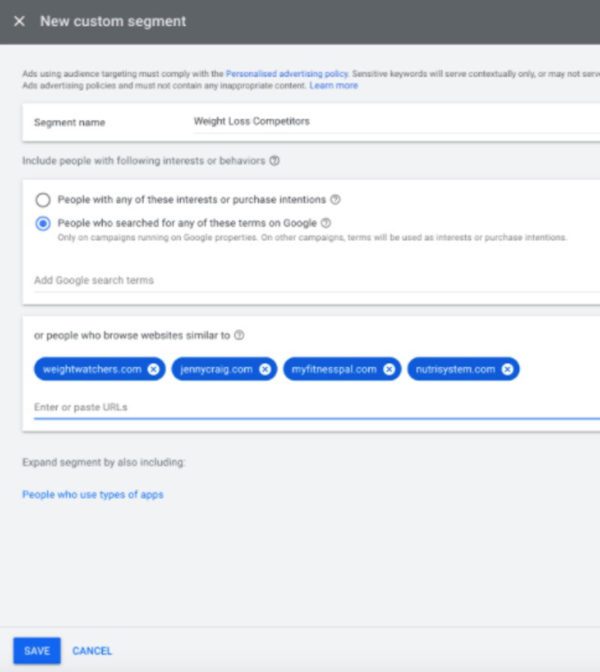 (Usually we'll bundle around 15 keywords or urls, grouped thematically, to create a single custom audience)
Here are 3 of our favorite things about using Custom Audiences:
Relevance: You get to show your ads to specifically the types of people who are most likely to convert into customers.
Competition: Red Ocean vs. Blue Ocean:Instead of throwing your hat in the ring and bidding with everyone else targeting Google's "boilerplate" In-Market or Affinity audiences, you're choosing audience segments with both relevance and scale to go after.
Price: Because you're targeting a unique segment of the internet, you're more likely to have less competition in the ads bid, and pay less for traffic than more commonly used standardized targeting options.
Here are 3 ways we're going to fast-track our pathway to success with high quality targeting, (including one sneaky tactic that can work extremely well):
#1 - "Ethically Steal" Noom's Paid & Organic Non-Branded Search Keywords to create high quality, scalable Custom Audiences
#2 - Leverage Noom's competitors: Build custom audiences based on competitor brand name keywords & urls
#3 - Bonus - Affiliate publisher "Seed" urls: Use Similarweb to uncover high-traffic, highly relevant affiliate publisher urls to use as the "seed" for massively scalable custom audiences.
#4 - Target Noom's branded keywords
Let's walk through how to do all this…
Custom Audience #1 - "Ethically Steal" Noom's Paid & Organic Non-Branded Keywords
What it is:
In this step, simply use SimilarWeb to find the non-branded keywords Noom is targeting via Google Search to turn new, unaware users into customers.
Then, build Custom Audiences with these keywords to show Found's YouTube ads to these kinds of users.
Why it works:
These are proven keywords that Noom is having success with to drive top of funnel purchases. We're just going to re-purpose the keywords for Found's YouTube campaigns. Instead of using these for Google Search (which we could absolutely do), we're going to build out a Custom Audience with these keywords as a "seed" to the audience.
How to do it:
Here's how to find this in SimilarWeb:
Go to Search > Keywords > select "Non-Branded Keywords" and look at the results: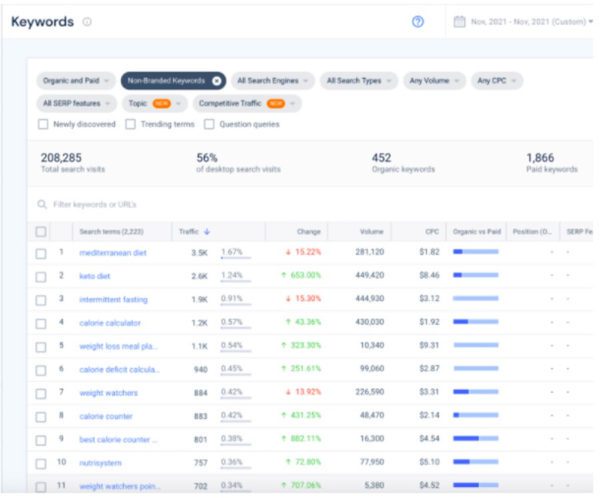 Here we're going to add keywords like "mediterranean diet," "keto diet," "intermittent fasting," "calorie calculator," weight loss meal plan," etc. to a new Custom Audience Segment.
Add the top 15 non-branded keywords like these to a Custom Segment & create that Custom Audience.
(Note: Save the competitor branded keywords (like "weight watchers" & "nutrisystem") for the next step.)
Audience #1 complete. On to the next one…
Custom Audience #2 - Leverage Noom's Competitors
What it is:
Here we're going to build a Custom Audience of Noom's competitors.
Why it works:
If someone is in the market for Noom or a competitor, they should be a reasonable fit for Found, right?
That's the premise here.
How to do it:
You'll see competitors Noom is already targeting in their Similarweb non-branded keyword report. Definitely grab these names:

In addition to what you find in the SimilarWeb search report, start to use the "[competitor] vs ______" technique to grab possibilities from Google's search autopopulate, like this: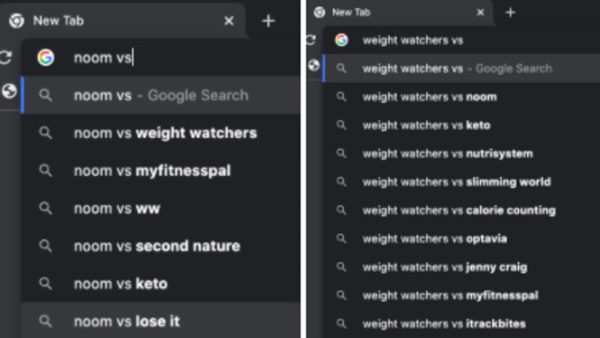 With this search we've added a few more competitors to the mix: "myfitnesspal," and "second nature."
Doing the search again, with different competitor terms, will give you even more results, like you see above with the "weight watchers vs" search. Go ahead and try the same trick with other brand names and see how many relevant brands you can find.
Got around 15 relevant competitors? Great! On to our next Custom Audience to build…
BONUS AUDIENCE - Custom Audience #3 - High Traffic Affiliate publisher "Seed" URLs
This one can work surprisingly well, try it if you haven't already:
What it is:
Here we are going to use SimilarWeb's Affiliate Publisher search to find the most relevant high-traffic affiliate publisher sites in your niche.
From this, we'll build another seed audience of highly relevant, high-traffic urls to use as a basis for a Custom Audience. This approach gives you some very unique and highly scalable seed data.
Why it works:
Customers in your market are visiting these sites - and buying from ads on them - en masse. That's why affiliate advertisers are placing so many ads on these specific urls.
Here we are leveraging Google's intelligence to find other people just like these, who will be a great fit for Found.
How to do it:
In SimilarWeb, go to Marketing Intelligence > Keyword Affiliates, and type in your keyword:

Once you click "Find Affiliates" you'll see a bunch of publisher urls showing top traffic receiving pages for your keywords: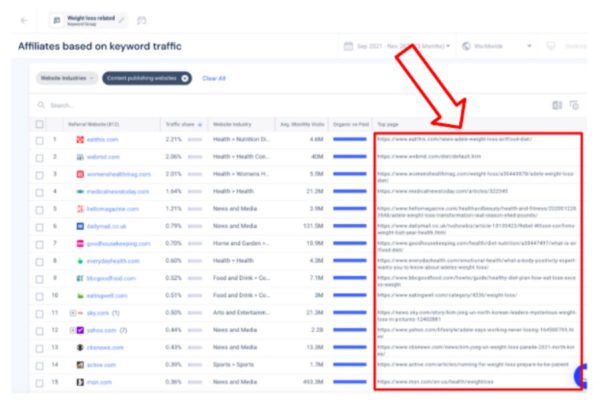 Grab the top 15 urls (make sure they are relevant to your offer and not simply a more general clickbait).
Add these urls to a new Custom Audience.
Boom. Now you have Custom Audience #3 complete!
Custom Audience #4 - Target Noom's branded keywords
What it is:
Build a Custom Audience with Noom's Branded search keywords, so people similar to those searching for Noom, see Found's ads.
Why it works:
Is Found looking to go head to head with Noom directly? This is a great way to do it.
Remember from earlier: nearly 50% of Noom's search traffic is for branded keywords. (Meaning people searching for something related directly to "Noom")
Thanks to Noom's $131M+ in YouTube adspend, that means there is A LOT of traffic for Found to target via this approach.
Just make sure Found's ads address exactly why Found is a better option than Noom. (More on that in the next section…)
How to do it:
Simply search for all of Noom's branded keywords in SimliarWeb. Build a Custom Audience using the highest volume branded keywords as "seed" keywords.
That's it!
Wrapping up…
Ok - if you've been following along for your own business, now you have 4 solid audiences to start testing with. Similarweb is an amazing resource for this intel.
But what about the actual YouTube ads themselves?
Let's talk about that next…
Stay tuned for installment #3 in this series, and in the meantime..
- Sponsored -
Inceptly
: the performance video ad team behind $950M+ in direct response revenue


Inceptly High-Performance YouTube Advertising Agency
Inceptly builds YouTube ad creatives & manages over 5M USD/month in YouTube ad spend for companies like ClickFunnels, Descript, MindValley, Advanced Bionaturals, Organifi, and many more.

Are you spending over $1k/day on ads and looking to scale your business with YouTube ads?

Schedule your free YouTube ad brainstorming call here:

👉 inceptly.com/call
What are your YouTube ad questions?
In the meantime though, what questions do YOU have about YouTube ads?
Let us know in the Comments section below, and we'll make sure to cover your question in an upcoming post.
Have a great week!
The VidTao Team
Sign up for VidTao.com: The Free Tool to Discover & Track Your Market's Best YouTube Ads.
Are you spending over $1k/day on paid traffic and want to scale with YouTube ads? Schedule your free YouTube ad brainstorming call here: inceptly.com/call
VidTao.com is brought to you by Inceptly.com - High Performance YouTube Ad Creative & Media Buying Agency Managing $5M/month+ in YouTube Ad Traffic.